Decided to smoke several different things today. I had a 3 lb pork loin and a couple of small turkey breast that I smoked first. I did not plan to do these low and slow, so I started a fill chimney of charcoal, and spread it on top of some additional charcoal. I gave it few minutes to get the unlit going before adding the smoke wood. I decided to use a mix of maple and cherry.
I then added the pork loin and the turkey breast. I used the same seasoning on both. Garlic powder, onion powder, paprika, black pepper and oregano.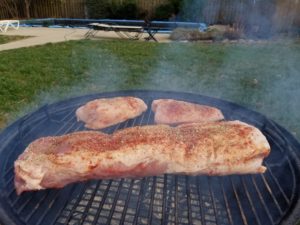 The smoker was running about 275 degrees, I let it go for 45 minutes, flipped each and then removed 45 minutes later. I was shooting for 140 degree internal temp on the pork loin, that is then removed and wrapped in foil, This continues the cook process and loin will rise about 5 more degrees and will retain the moisture.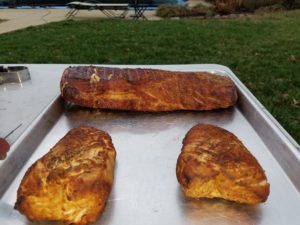 It was now half time of the NFL Championship game and my Packers were getting killed by Atlanta. I then added more smoke wood to the smoker and added about 30 chicken wings and 5 Italian sausages.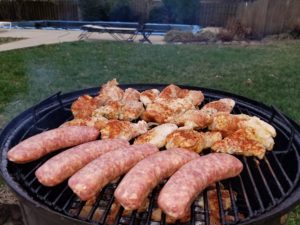 I let them smoke for about 1 hour before flipping them.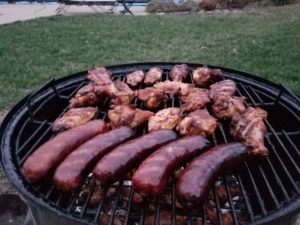 I removed them at the 2 hour mark and transferred them to the grill for the last crucial step when smoking chicken at a low temp. About 5 minutes on a hot grill and they are good to go.