I have been smoking for 10 years. My original purchase was an 18″ WSM and it has delivered time after time. I had been watching Craigslist for a deal on 22″ for a long time and never could find one. I stopped in my local Lowes for a small purchase and as my normal tradition would have it, I walked through the grill section to see if there was any deals. I spotted it from across the way, it was a huge beauty. I had never seen one in person, just assumed that it was bigger, but this was huge.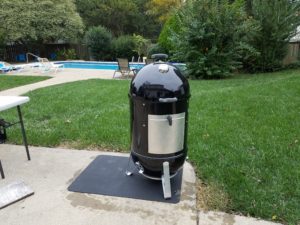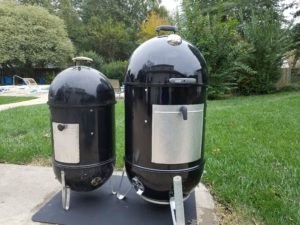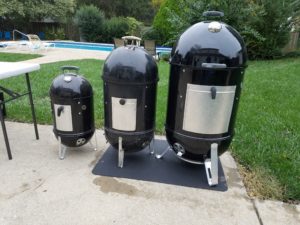 I finally got around to firing it up this past weekend. My local sprouts had baby backs and St. Louis style on sale for $2.79. I picked up 2 baby backs, and 1 St. Louis style. I planned to break in the smoker and get the ribs cooked, so I filled the charcoal ring about half way and then added a 1/2 chimney of lit coal. I then added two large chunks of hickory and added the three slabs of ribs. I decided to cook these with a Jack Daniels Pork Rub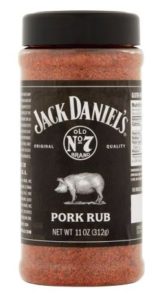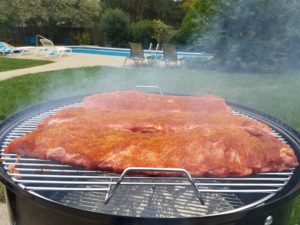 I planned to just smoke these straight, no wrapping, no sauce, just a nice low smoke. I left all of the vents wide open to get the temp up. It was a cold day only 41. It took about 40 minutes or so and it was now running at 275. I closed two of the three vent and used the third to adjust the temp. I was able to get it to settle in at 225.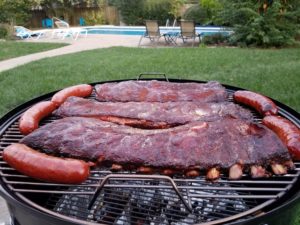 I added some sausages at the 4 hour mark and another chunk of hickory.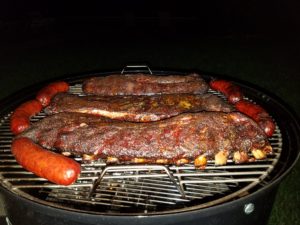 The ribs went a total of 6 hours and the sausage and ribs were removed at the same time.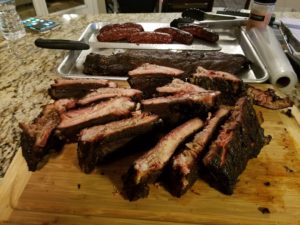 The meal was excellent, the rub gave fantastic flavor, and no sauce was needed. I really enjoyed the St Louis style ribs and they may be my go to next time I decide to smoke some.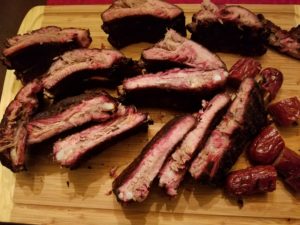 Fantastic color on the ribs as well.