Smoked cheese is a pretty easy process, that I do every couple of months. My family and friends really enjoy it, but it takes a little planning. Plan to start eating it about 3 weeks after smoking it, so plan ahead. Give it a try it is an easy process, with great results. Below is basic info that applies to process that I follow to complete the smoke. After the process section is the latest smoked cheese, pictures and results.
Process
1. This is a cold smoking process, basically smoking without any heat. I have seen where people have completed this with a soup can, or a soldering iron to heat wood chips, etc. I have decided to do a tried and true method, using a smoking tube the Amazen and pellets similar to what are used in pellet smoking grill.  The pellets come in different wood types, and I have primarily used cherry and oak pellets on the cheese. They are also tricky to get lit, and stay lit. The challenge is that you want it to smolder, but not flame. I have found the easiest way to complete this is on my gas grill. It only take 3-4 minutes to get it rolling smoke.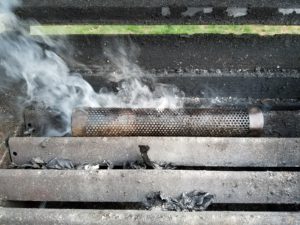 2. Even though the smoke may not produce very much heat, the conditions you attempt this can cause issues. I purposely try to complete this early in the morning and keep the smoker out of the sun. I also fill the water pan of my Weber Smokey Mountain with ice, to help keep the temp down. The picture below was on a under 50 degree day, but since the sun was beating down on the black Weber surface the temp increased and cheese was melting. Even though it was melting, it still tasted delicious.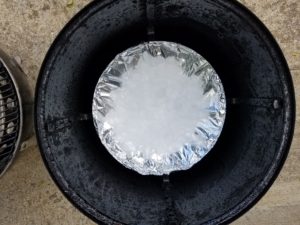 3. The cheese can take as much smoke as you want to throw at it, but I have found 3-4 hours is the sweet spot. I then add the smoking tube to the empty smoker, with no additional fuel added.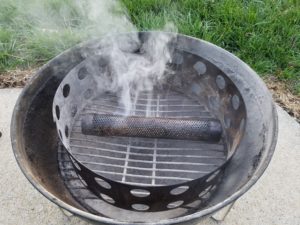 4. When you remove it, let it rest and remove any oil the cheese has on it.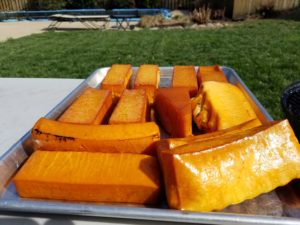 5. Vacuum seal it and then refrigerate for at least 3 weeks. The cheese seems to mellow during this time. If you attempted to eat it right after smoking it, it would taste like you were licking an ash tray.
Latest Smoke
It was time to smoke some cheese again since my supply was running low. I smoked some Gouda last time and the family really enjoyed it, so I decide to smoke more of it this time. I personally prefer a sharp white cheddar and have been purchasing it as Aldi and also picked up a pound of Swiss that I cut in two. This is a cold smoke using the Amazen smoking tube, and I used oak pellets and almost completely filled the smoking tube which meant it should go close to 4 hours. I did ad ice to the water pan and kept the smoker out of the sun to ensure the temp stayed down during the smoke.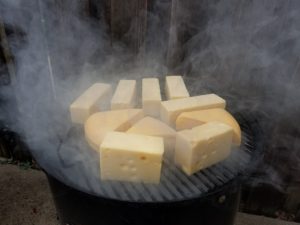 Here was the cheese about two hours in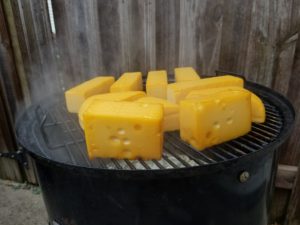 Here was at the three hour mark, and I added additional ice to the water pan, as there was some melting going on.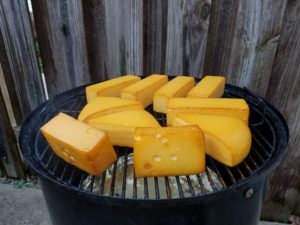 It was finally removed after 3.5 hours when it stopped smoking.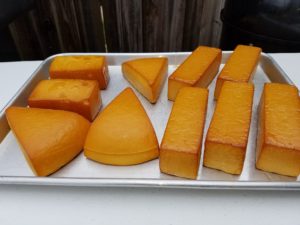 I then placed the pan in a cold oven for about an hour prior to vacuum sealing. I then label and date it and refrigerate. I have found it needs to rest for a minimum of 3 weeks before eating. It will last up to a year when sealed properly, but it will never last that long around here.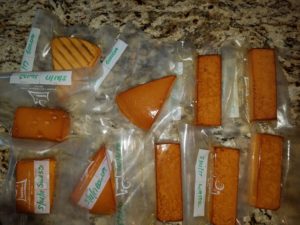 I have also documented several previous smoked cheese outcomes. They can be found at the top of the page in the section marked Cheese