My typical go to cook on mothers day is ribs. My wife headed out to California this mothers day to spend some time with daughter #2, but the tradition continued anyway. I smoked the ribs doing the 3,2,1 method. The ribs were reasonable priced and only $8 each at $2.88/lb. I removed the membrane from the back of the racks, which is an easy process, that I do with a butter knife at one end, to get it started and then give it a tear. I decide to use a combination of hickory and cherry wood chunks and planned to cook in the 225-250 range. I seasoned the ribs with paprika, garlic powder, onion powder and pepper.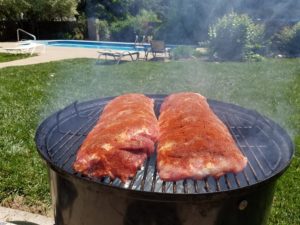 with the 3,2,1 method, you start out and go three hours in the smoke. At the three hour mark you remove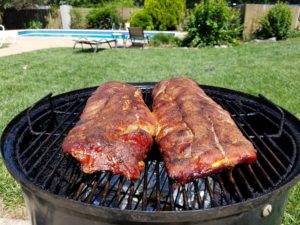 You then wrap the ribs in foil, and I personally add, some honey, some brown sugar and small amount of water. You then return them to the smoker for 2 hours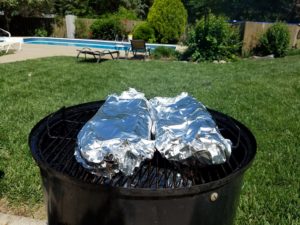 About 1.5 hours later I added some Italian sausages and since the ribs were big, I had to move the ribs to the edge when I did. Thirty minutes later I went to remove the ribs and take them out of the foil and one of the rack came out with the lid and landed on the patio…. so that is where "patio ribs" came from. The looked good at 5 hour mark.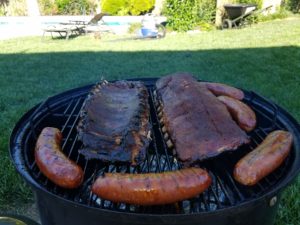 I then allowed them to cook for one more hour to completion which timed with sausage that take approx 90 minutes total.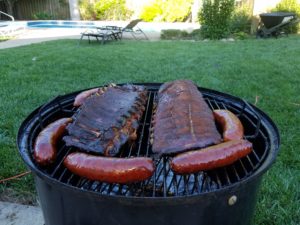 I let them rest a few minutes and then sliced and served