I decided to mix it up this year for Thanksgiving. I have smoked a turkey for the last several years but decided to smoke a Sam's brand Honey Baked Ham. The price was right it was only $16 and it is was close to 9 lbs. I used apple wood ( a light smoke wood) and placed it in a pan and was shooting for a low temp something under 250 degrees. Most of the hams are basically precooked and the at home directions are only to bring it up to temp.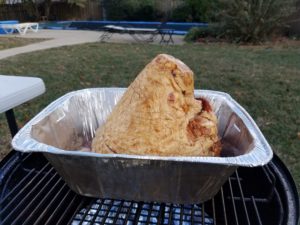 The target for the smoke was 3 hours, based on the time it was going to take a Turkey that was going in the oven at the same time.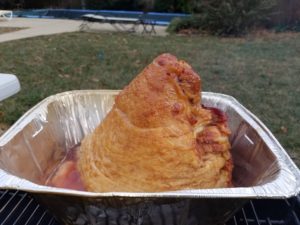 This was one hour in as it was starting to get some color as the smoker was running at 240.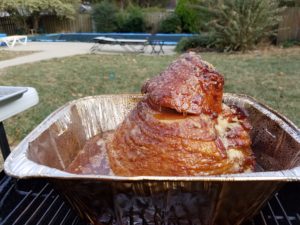 During the process I spritzed with apple juice, to ensure it did not dry out. I also added the sugar/season pack, that had two forms of preparation. The traditional is to mix with water and pour over the ham. The 2nd option which the option I choose was to use pan drippings to get the ham moist and then sprinkle the packet over the ham.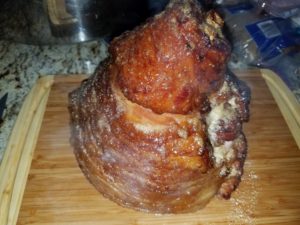 Total time in the smoke was 3 hours. The sprinkle option had less than optimal results based on the temp that I was cooking at, but all in all, it turned out great, and gave the ham a boost of smoked flavor