I love smoked cheese, and was now running low. I decided to smoke some more. My favorite is white cheddar, and I also added some sharp cheddar, Colby jack and a wedge of un-smoked Gouda and Swiss. I decided to use Hickory pellets in my pellet smoking tube this time. It was cold out so I did not worry about adding a pan of ice to ensure the temperature was low enough to make sure it would not melt. I got it going and loaded it up.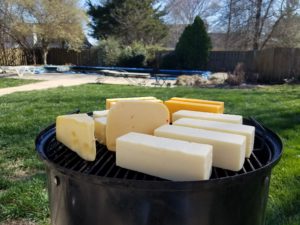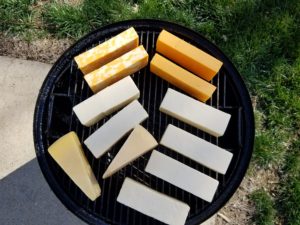 I watched the progress from the comfort of my office and the smoke just kept rolling. The maximum time the tube seems to run is 4 hours. About the 3:45 mark I ventured down to check the progress. It was at that point that I decided that I should have used a pan full of ice to keep the temp down. It must have picked up some temp from the sun, as it was only about 50 degrees outside, and the pellet smoking tube does not generate heat.
It was a lot more that I had ever seen when smoking cheese, I promptly removed it and let it rest for about an hour, removed the excess oil and then labeled and vacuum packed it and will let it rest for three weeks before sampling… Can it be over smoked? Time will tell.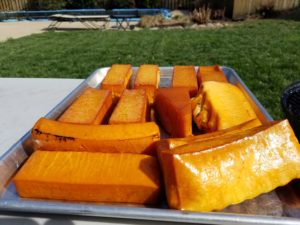 Finally made it to the three week mark and tried some of the white cheddar today. It was great.