It was time to make chili for a church event. I decided to smoke the jalapenos and the ground chuck. I wanted a strong smoke flavor so I used mesquite. I had a 4 1/2 pound package of beef and I used a cast iron pan that would barely fit on the Weber.  I was not concerned with the temp of the smoke, I just wanted to get the meat browned. I placed the jalapenos on the bottom shelf and the meat on the top and left the vents wide open to get a high temp.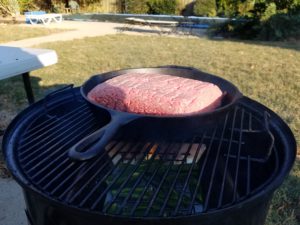 The jalapenos only took about 45 minutes to finish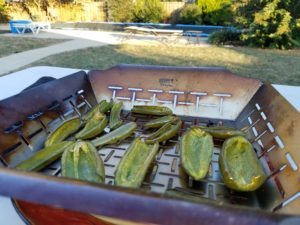 The meat took some time to complete, close to 2 1/2 hours and plenty of periodic stirring and draining in the process. It reached the desired results, it had a beautiful red color and plenty of smoked flavor.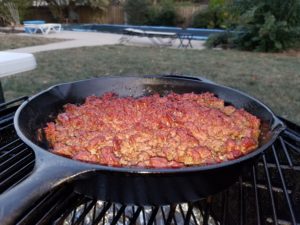 It was then added to the chili, which I use tomato juice as a base, add diced onions, the jalapenos that were diced, garlic powder, onion powder, chili powder, cumin, and oregano. As with most cooking, I never measure anything out, I add, stir, taste, add stir, taste.
The base is made using 3 cans of tomato juice, with the onions and seasoning and simmered (about 2 hours). The meat was added and then simmered for 30 minutes. I then added 5 cans of dark red kidney beans and simmered for another 30 minutes to completion. It was then served with additional diced onions, grated cheese and Frito's Scoops.  In my opinion this was the best chili I have ever made, and I would definitely do this again.