It was a beautiful Master's Sunday and I decided to smoke something since it has a couple weeks. I purchased some chicken thighs and small package of mild Italian Sausages. I decide to go with a marinade only and never applied any seasoning to the chicken (first time ever). For the marinade I used Tequila, and Margarita mix. I also added some garlic cloves that we previously smoked and some fresh cilantro. I placed it in a Ziploc bag and then left it in the refrigerator for approx 6 hours.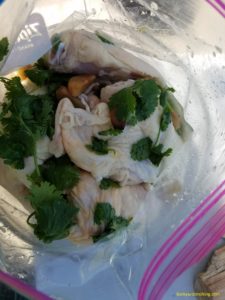 I put the chicken on the smoker and added several chunks of hickory. I cooked it low, under 250 degrees. About 1 hour in I added the sausages and I prepared my 14″ WSM so I could cook the Mac and Cheese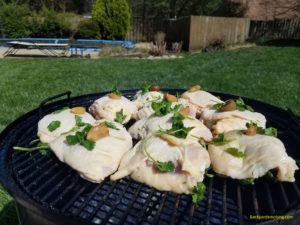 For the recipe, I took a box of wheat elbow pasta and cooked it per the directions. I added some milk, a can of Campbell Cream of Cheddar soup, and then some fat free cheddar and reduced fat mozzarella cheese, some Parmesan  cheese and some Panko bread crumbs on top. My attempt was to make it decent but not decadent. Really trying to lower the calories in the things I consume.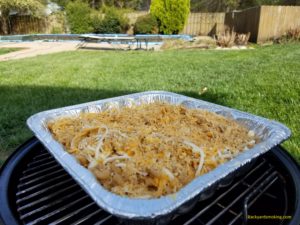 The smokers were both an action, the little guy running a little hotter than the big guy.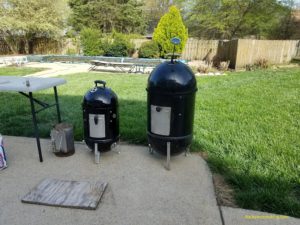 Here is the chicken when I took off the smoker.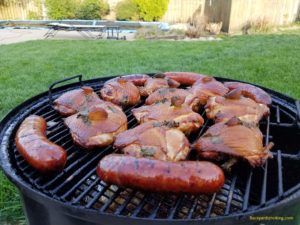 I always transfer chicken to a hot grill for a few minutes when I am smoking low and slow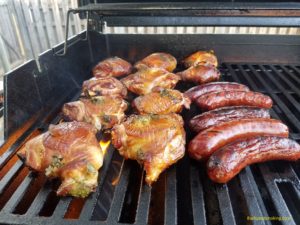 Here was the finished mac and cheese, it sat in the smoke for about 90 minutes.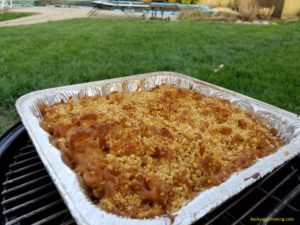 All in all another decent smoke, the chicken is cheap and tasted great. The sausages are always great on the smoker. The mac and cheese was just ok, again, I really think I need to make it almost soupy going in, to have the proper consistency coming out.