As I am building my blog and social media presence, I was contacted by Dan from Tuffy Mat. He offered to send me a sample of the product, if I would write a review of the product on my website. I received the product several weeks ago, but really have not had an opportunity to put it to the test yet. On of the things I have always struggled with while smoking on my patio is what to lay the cover on, when checking the meat, or worrying about having to clean up anything spilled during the process.
The mat arrived rolled up in a box, and had a pretty strong odor, a rubber smell. It took some manipulation to get it lay flat, but once it did it was good to go. Since I stored and use the product outside, the smell of the product also disappeared.  My dogs appeared to have liked it, as you can see from the paw prints on it.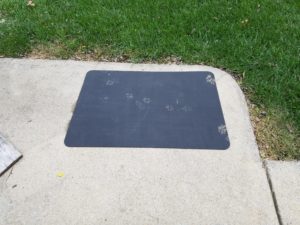 It is reversible, and is ribbed on the bottom. The purpose of this is to allow moisture to evaporate underneath so it will not mold while sitting out in the elements.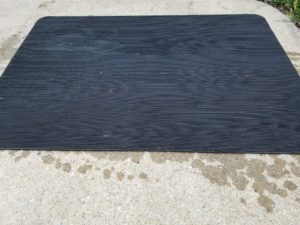 The product is fire and burn resistant so it could be used on a deck or patio and washes clean for any spills that may occur.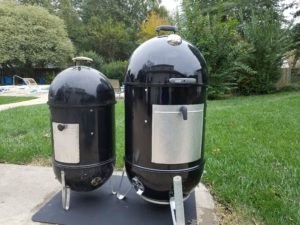 it is big enough to hold both my 18 inch WSM and my 22 inch WSM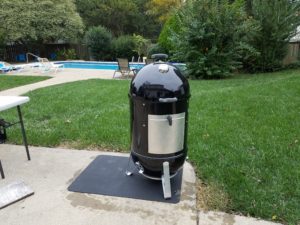 Here is how I put it to the test, and smoked some ribs. When it came time to check on the ribs, I was able to put the hot lid on the mat without a second thought .
You can find more about the product here,
https://www.facebook.com/tuffymat/
or contact Dan on twitter  @tuffymat