I completed a midnight smoke on the Sunday night heading into Memorial day. I started the smoker a little after 7pm and got the brisket in the smoke about 7:30 PM. I completed the cook using the minion method as follows: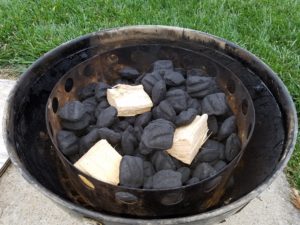 I filled the chamber a little over half way full with some hickory chunks buried inside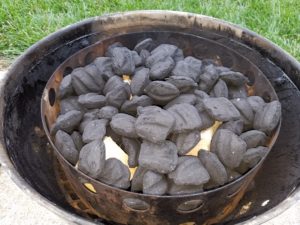 I then topped it off, almost complete full. I then took a half of chimney of lit coals and poured on top of the unlit coals. I also added some small chunks of hickory on top to ensure some immediate smoke got on the brisket.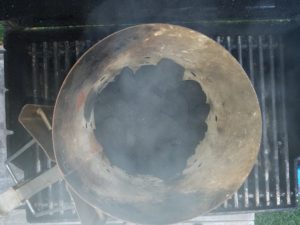 Since was going to be an overnight smoke, I filled the water pan, this is completed carefully after the smoker is assembled and over the lit charcoal. Then pour water in the pan.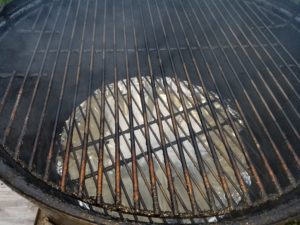 The brisket was 12.4 lbs untrimmed and about 11 trimmed. It took some effort to get it on the smoker, but it will shrink once it starts cooking.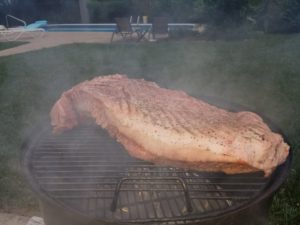 I had a little problem getting it up to temp, since I did not fill the water pan with hot water. I figured that out the next day. By 10 pm it had been rolling smoke but was under 225. I adjusted the vents and had two of the three open 100%. I set my alarm for 5:30 am and checked on the brisket. Temp on the smoker was now 250 and it looked good.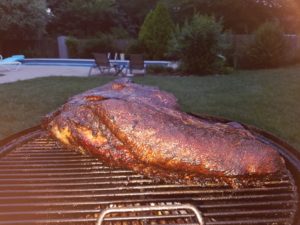 I checked on it an hour later as I headed to play golf and the temp was close but not quite done.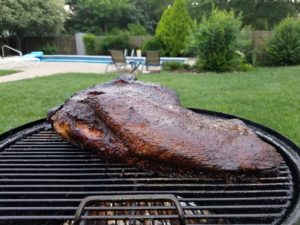 When I returned from golf about 8:00 am, it was done and at temp and probe tender in the point and flat.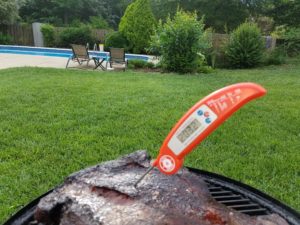 I removed it and double wrapped it in aluminum foil and place it in a cooler with towels below and above.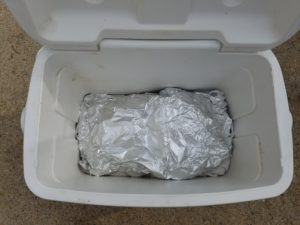 Finishing at 8 am was nice but I knew I was going to keep it warm until it was time to serve. I checked it once about 12:30 and it was still over 160 degrees, and when removed at 2 pm, it was 155 degrees prior to slicing and serving.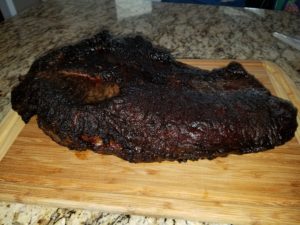 It was beautiful and moist and sliced up nice.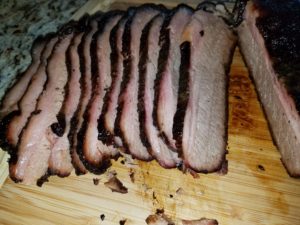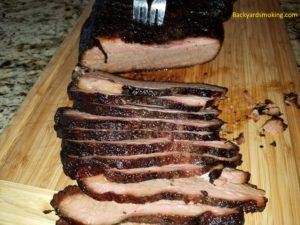 I then sliced the slices and served on slider buns.