I had to go to Austin for a week of training for work, and planned to try to sample some local barbecue. I would  have loved to have been able to go to the World famous Franklin Barbecue, but being in class from 8-5 for Monday through Friday it was impossible. They only open for lunch and sell all they have made the night before and people line up at 6 am to get in line for the lunch opening.
I flew in Sunday afternoon and drove to the location that the training would take place and then looked for a place to eat. I ended up going to Texas Land and Cattle Steak House. I had hoped to eat some beef ribs there, but believe it or not the waitress said I would be disappointed. They had what they advertised as Famous House Smoked Sirloin. It was similar to beef brisket, appeared to be prepared in a different way. It was definitely smoked and was very good.
On Monday night we went to Iron Works Barbecue which is located downtown Austin. This is an old location directly downtown, run down, exterior and interior. It was highly rated, and the aroma was incredible. I ordered a sampler platter consisting of brisket, a beef rib and sausage. I was looking forward to the trying beef ribs, and it was good, and the brisket was wonderful, and the sausage was just ok.
We went to a local establishment for lunch called Slab, and as is the custom in Austin, you better arrive early. We made it shortly after 11:00 and I order the TRILL sandwich which consisted of brisket, pork rib meat and sausage on a white roll with their barbecue sauce. Sandwich was fantastic. Similar to many stories of the locations in the area, it started out of a food truck and then transitioned into a brick and mortar location.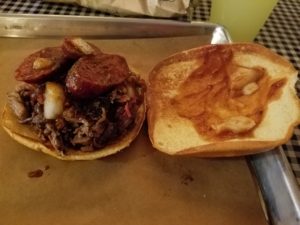 Looking for a final barbecue outing on Thursday night it was a toss up between Stubb's Barbecue and Blacks Barbecue.  Stubb's sells their sauces in grocery stores all over the country. Checking on their history, they have been in business for over 80 years. We ended up deciding on Blacks for two reason, one it closer and the most important reason is they sold beef ribs and Stubb's did not.
Blacks has been in business for 84 years. Incredible aroma in this place also. It is a small location with picnic table seating, they sell their meat by weight and pretty much no frills. I ordered one beef rib and 1/2 lb of brisket. The ribs was fantastic, the best I have ever had, but the brisket was even better. No sauce required for this stuff. Finished all that ordered which was no small feat, but when in Texas, it is go big or go home.