My obsession with the Sous Vide cooking process continues. One of my favorite things to cook has been thick cut pork chops. To complete this I purchased a pork loin on sale that was close to 4 lbs and was just over $6. This was a great buy, but even when not on sale, pork loin can be transformed into a great tasting and inexpensive meal.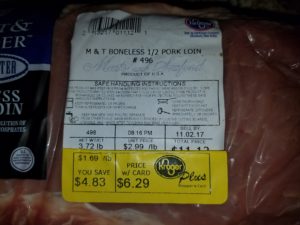 I then sliced the loin into 8 thick cut chops.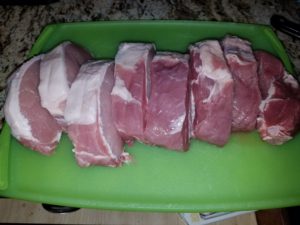 I used a simple salt and pepper seasoning on both sides for the chops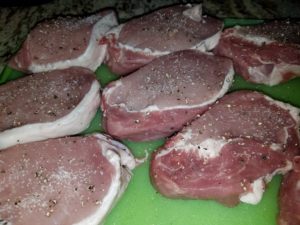 The chops are then vacuum sealed prior to cooking.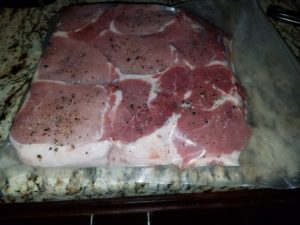 For the Sous Vide  method, the product you are cooking is cooked at a precision temp in water. The Anova Sous Vide device will heat the water, maintain the temp and circulate the water. This was a short cook, only two hours. I have in the past cooked some products for 48 hours. It then went into the cooler with the Sous Vide and I set it to 139 degrees and left them in for 2 hours.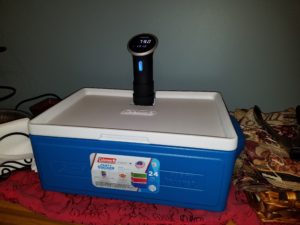 The beauty of the Sous Vide method is that it cooks the specific temp edge to edge. I then removed and paper towel dried them and heated up the cast iron skillet.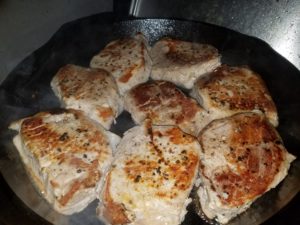 To use the cast iron effectively, it needs to be very hot, and the meat needs to be dry. I have cooked using this method in the house on occasion, but the amount of smoke it gives off is tremendous. To complete this, since the weather was decent, I heated up the pan on the side burner of my Weber propane grill. I normally use a small amount of butter in the pan prior to dropping the chops in. I then cooked the chops on all sides, which was a little challenge getting all 8 in the pan. I cooked them for approx 5 minutes.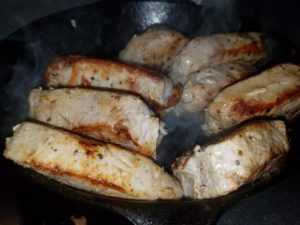 The benefit to this method is that the chops all turn out the same, you never have to worry about over or under cooking some or all of them.