On a smoking roll, 2 smokes over the last three days. I typically cold smoke cheese several time in the fall as we get closer to the holidays. I finally replaced my pellet tube and ordered some pellets. I normally smoke in the morning, but decided since the weather looked cool to try an afternoon smoke. The tricky part is getting the pellets in the tube smoking. I determined long ago the best way was to light them was on my propane grill. I remove the grates and drop it in on the flavorizer bars and wait for it to smoke.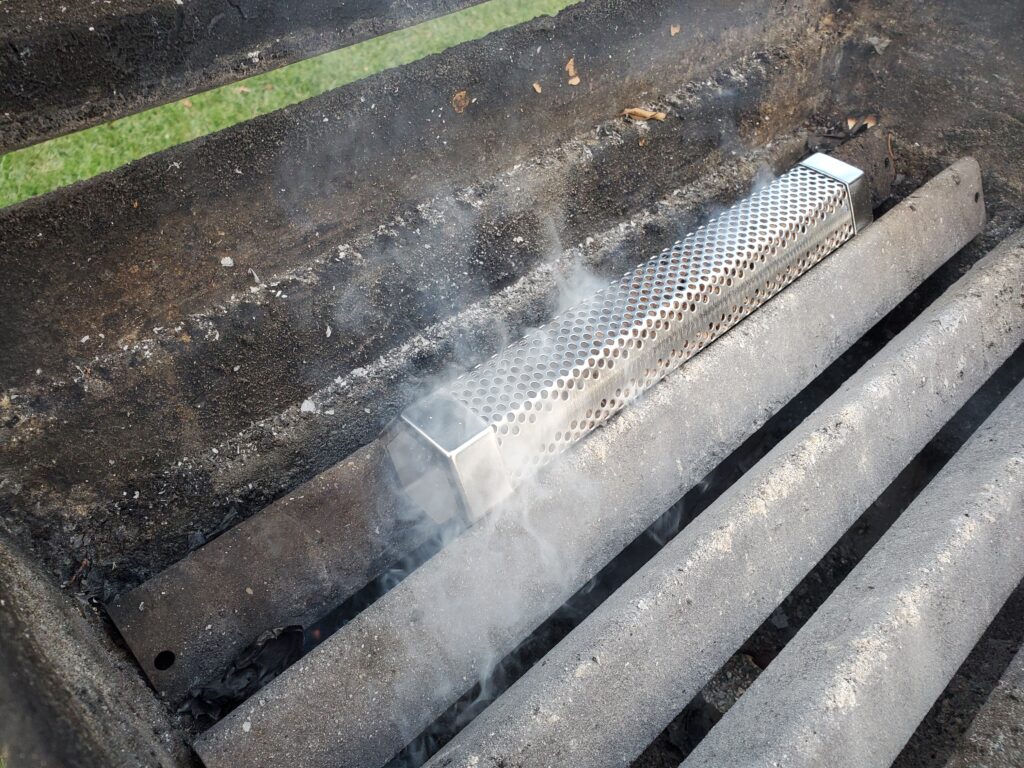 There is a fine line between the smoking and flaming. If the pellets are flaming, you will not get the smoke, and you risk melting the cheese in the process. My first go, I lit it and moved it to the smoker, but it was not getting enough smoke. I put it back on the grill and then it was flaming. I placed it in the bottom of my Weber Smokey Mountain and assembled it. I checked a few minutes later and it was still flaming. I then used a spray bottle and a short blast of water on the flame knocked it down and it smoked good for over 4 hours.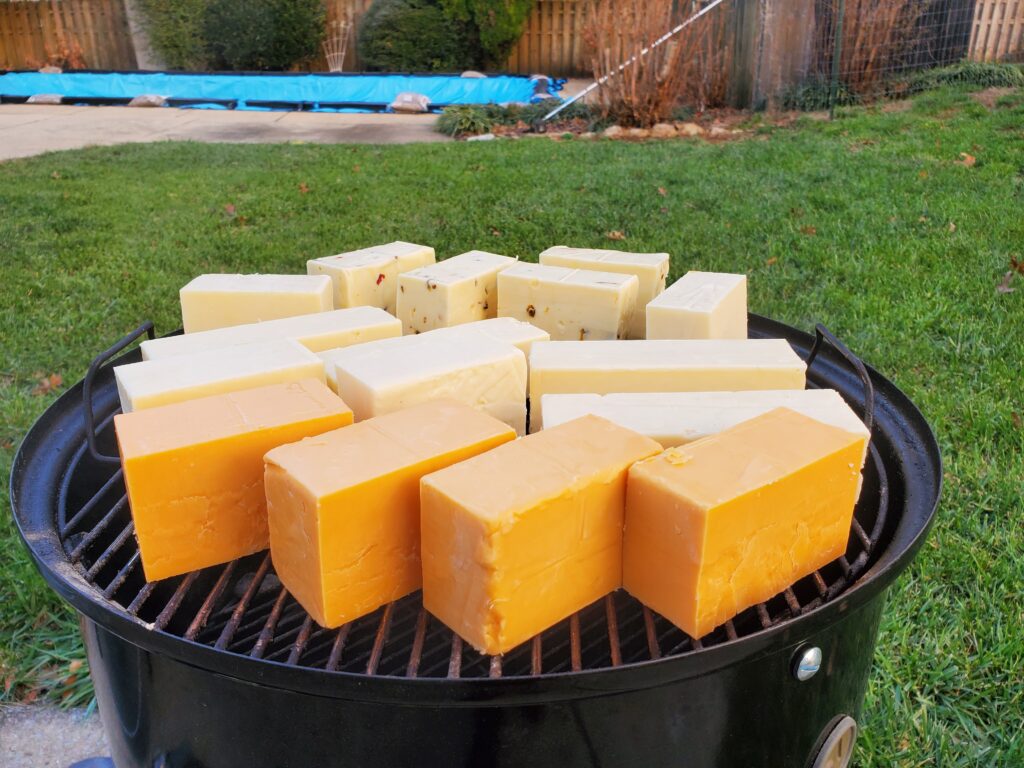 I purchased 3, 2lb blocks of Cabot cheese from Sams. I purchased an aged sharp cheddar, and white cheddar and a pepper jack. I quartered them , and I also purchased 4, 8oz sticks of aged white cheddar from Aldi's. I have smoked this type of cheese from Aldi's on several occasions and I turns out great. Plus they are only $2.49 each.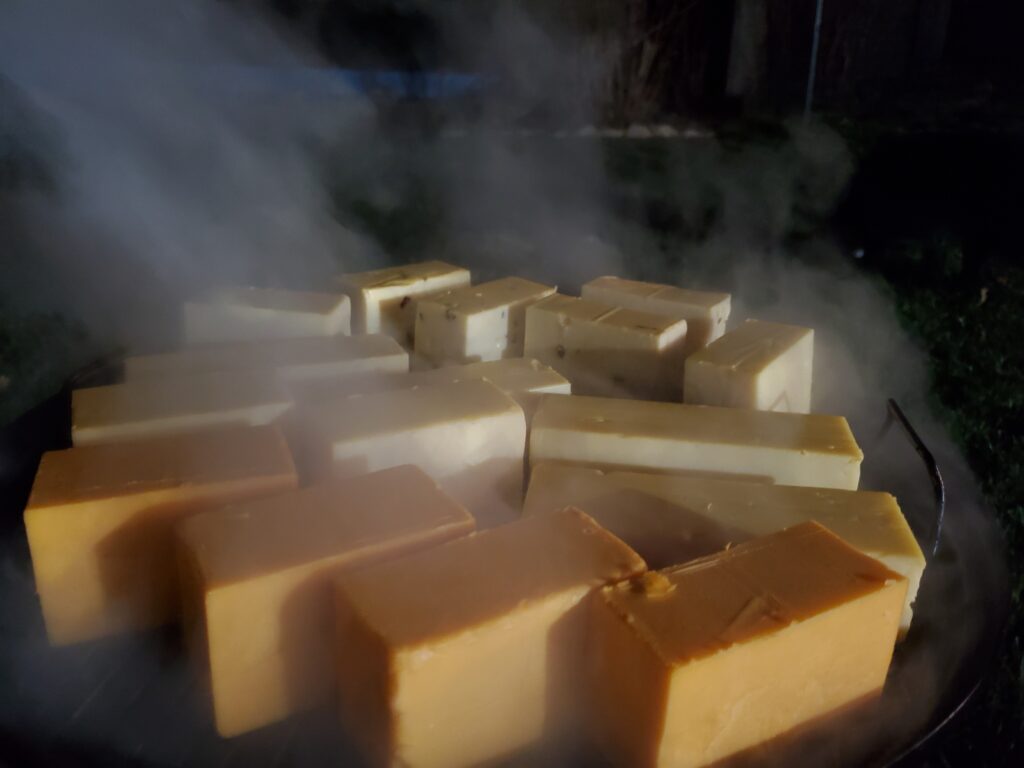 I checked on it, two hours in and it was getting some color.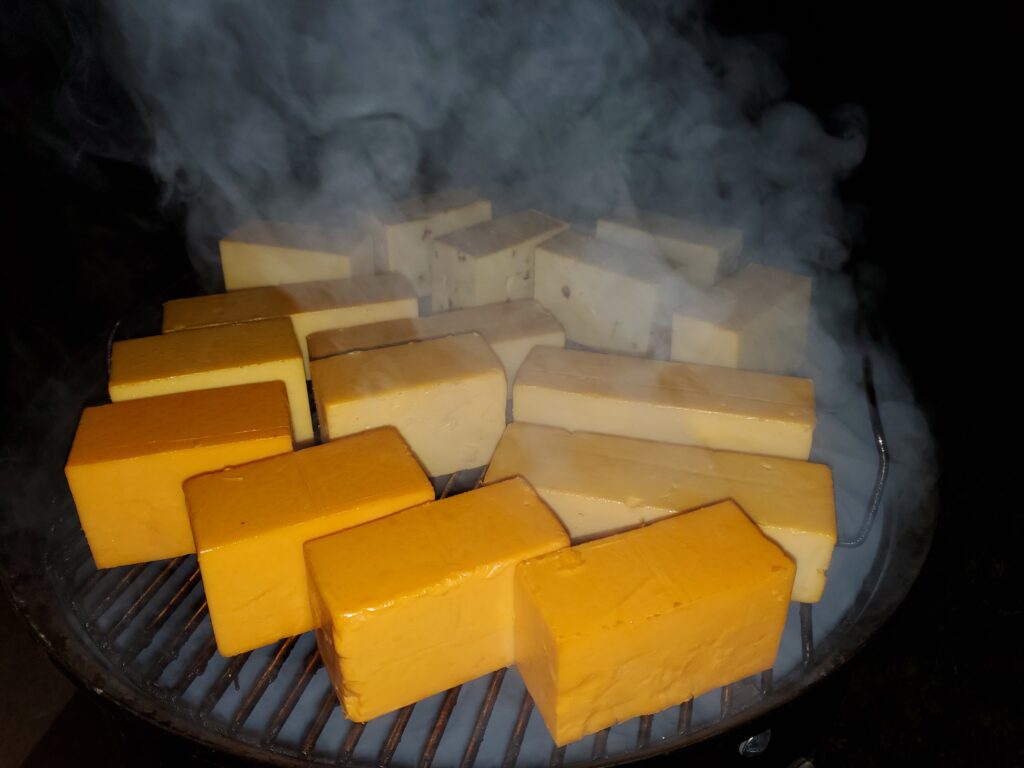 I removed the cheese at 4 hours and the previous white cheddar had some good color. The replacement tube was still going strong, seemed to be a little bit larger than my previous smoke tube that was destroyed in the fire. I did not want risk having too much smoke on the cheese. I think the sweet spot is 3-4 hours of smoke.
My process is to rest the cheese for about for about an hour, I place it in a cool oven. Depending on when you smoke it, some of the cheese has given off some oil that comes off the cheese. If this happens, I do wipe it off prior to sealing. In this case, there was none.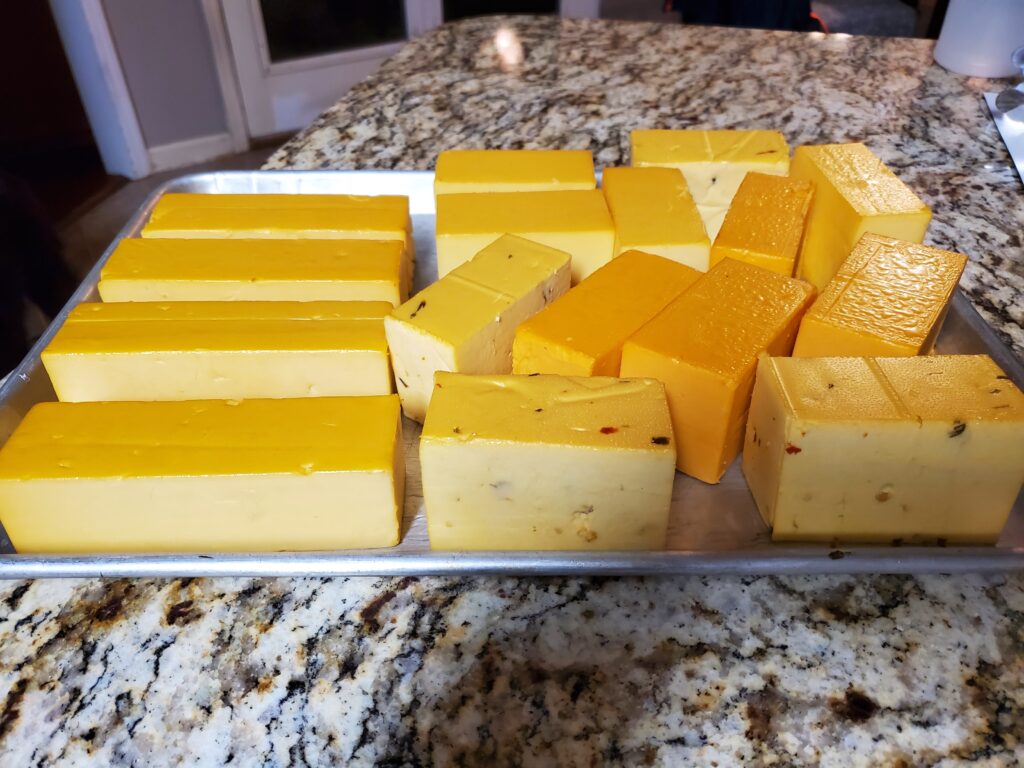 I then vacuum seal each portion, and date it and store it for future consumption. I have found the sweet spot is 3 weeks of sealing, helps the cheese mellow and the smoke flavor is absorbed by the cheese. Because I waited so late this year, I am sure I will sample some a little earlier. If you taste tested the cheese coming off the smoker or a then next day, it would taste like you just licked an ashtray.