I was looking for a replacement 22″ Weber Smokey Mountain for the last 6 months or so. With the pandemic they were hard to locate even new. I started to watch Facebook Market Place and Craigslist and had seen a few, but finally was able to score one. This one was about 6 years old and was in good shape and I was able to purchase for $150 versus the $549 list price for a new one. I did a fresh burn on it to clean it out and also smoked chicken and sausage with no issues. I did decide to purchase the upgraded door and charcoal basket from Cajun Bandit for $94. So ultimately ended up with a great smoker for under $250.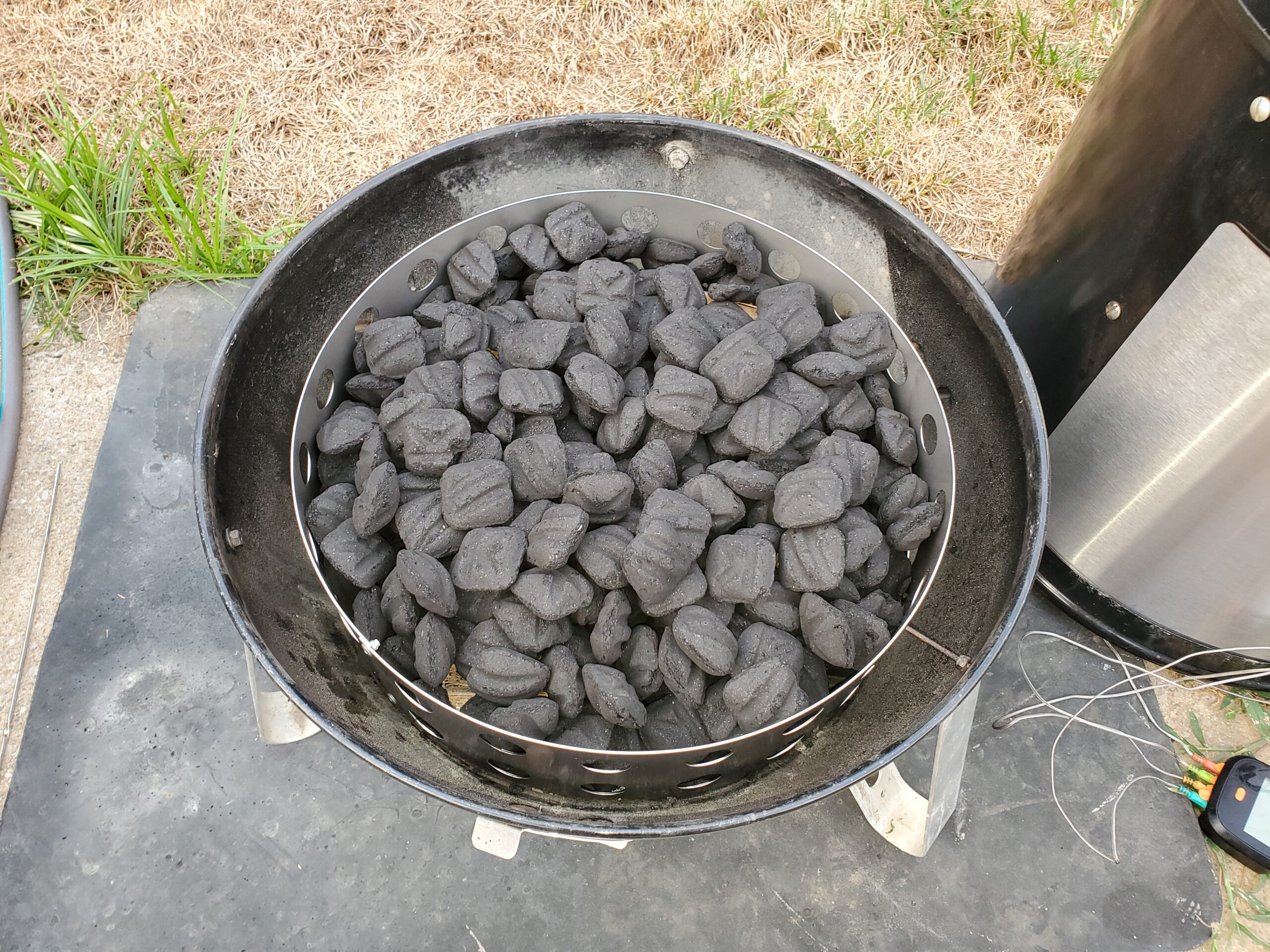 Like most large smokes, I plan them out in advance. I purchased 6 pork butts and watched the weather. I prepped the pork in advance, trimming the large fat cap and then seasoned all six of them. Some people make a rub or purchase a commercial rub. For this smoke I just seasoned each butt and all sides. I used garlic powder, paprika, salt, pepper and turbinado sugar. I seasoned them 24 hours in advance. For large long smokes I do midnight smokes and would prefer that their is no rain expected. I chose a Thursday overnight smoke, I started the smoker at 7:30 PM. To do this the bottom is filled with a layer of charcoal, several chunks of hickory wood are added, more charcoal on top of that. I lit a chamber of charcoal and dumped on top as well as some more hickory for immediate smoke.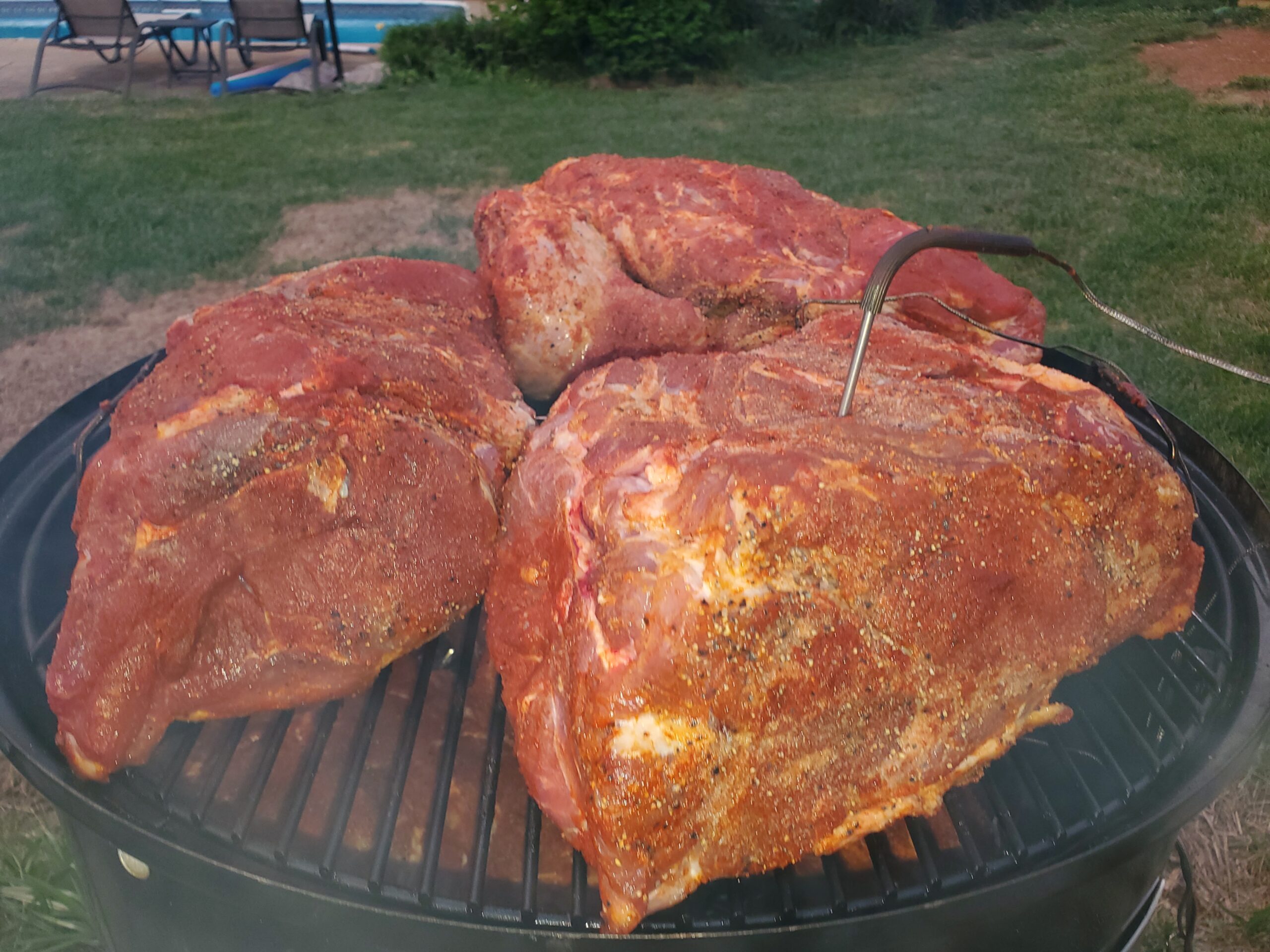 I have perfected the process and the Weber Smokey Mountain is almost set and forget. The smoker uses a water pan, that acts like a heat sync, and is used to help stabilize the temp of the smoker. After going more than a decade with no electronics, I did add a Inkbird 4 probe wireless temp gauge. I connected one probe on both grates of the smoker, and placed one probe in a butt on each as well. My target temp for the smoker is about 225, but would not be concerned if it went to 250. To control temps on the smoker, it has 4 total vents. The top vent always stay wide open, and the bottom three vents control the air through the smoker. To start, only one vent is 1/2 way open and the other 2 vents are closed.
I monitored the temp from the Inkbird and went to bed. I was up about 5:30am and pulled the cover and took a look. Pork was doing good, aroma was great it was now on for 10 hours.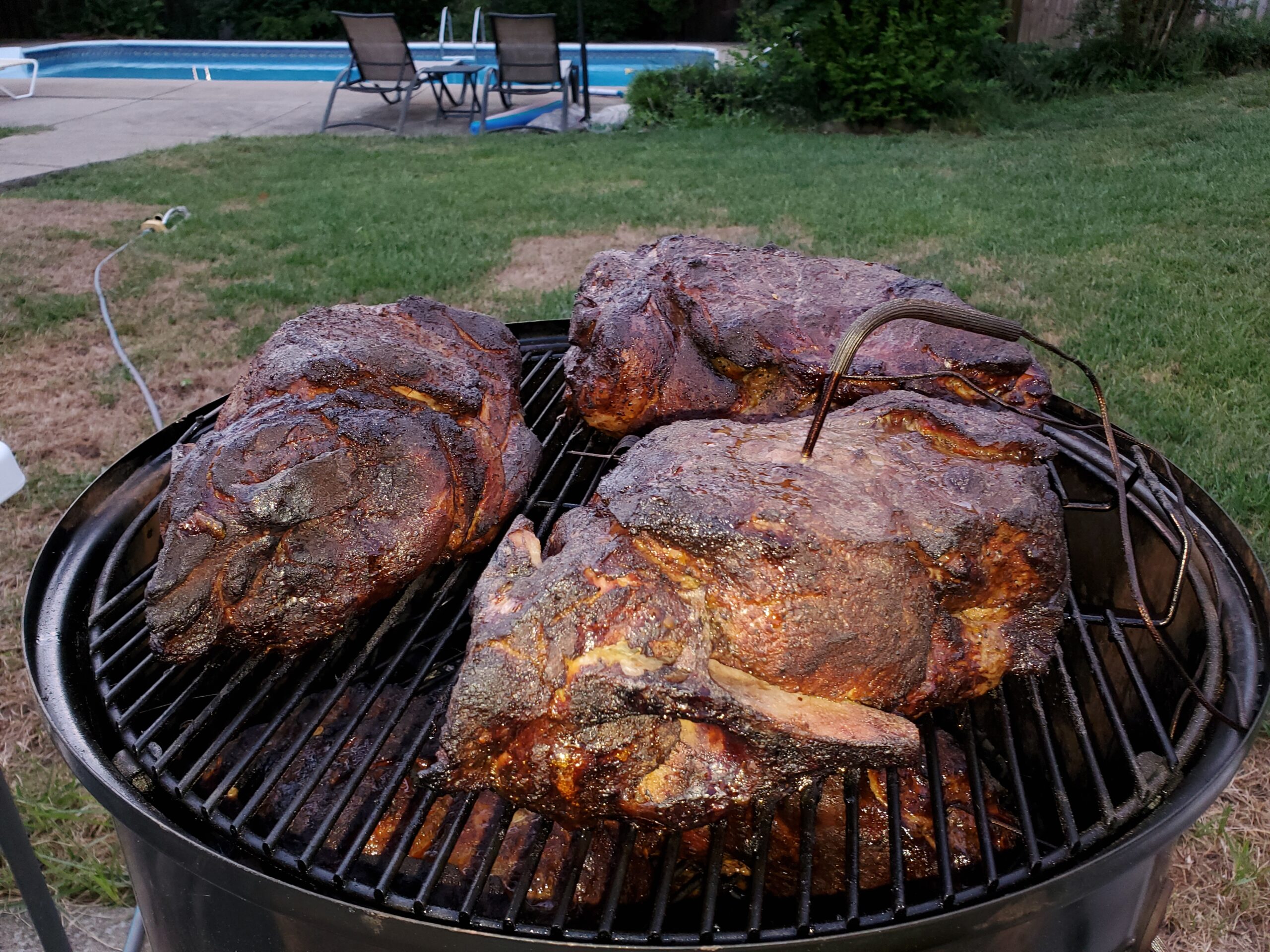 When using both grates, I also rotate the products, so I move the three on the bottom rack to the top and the 3 on the top to the bottom. One unique thing that I do with pulled pork is spritz with purple grape juice. This helps the bark creation and and the color of the finished product. I continue to spritz every 60 – 90 minutes until they are removed.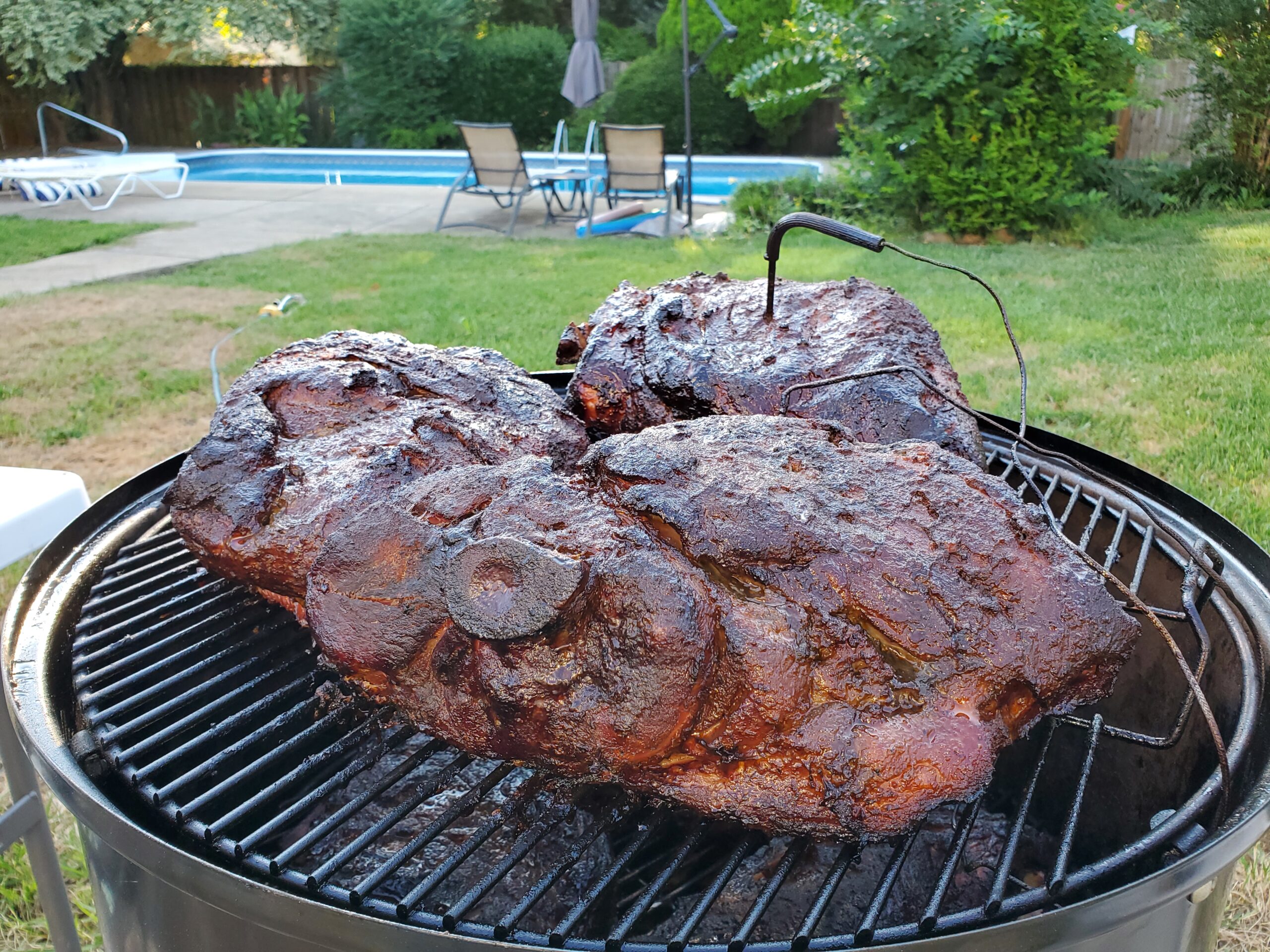 I continued to monitor and pork and the weather. Rain was expected, and originally forecasted for 3:00PM. Shortly before 1:00pm they sky was dark and the rain was coming. I scrambled to remove the 6 butts from the smoker and get them in the house. They took on really good color and bark.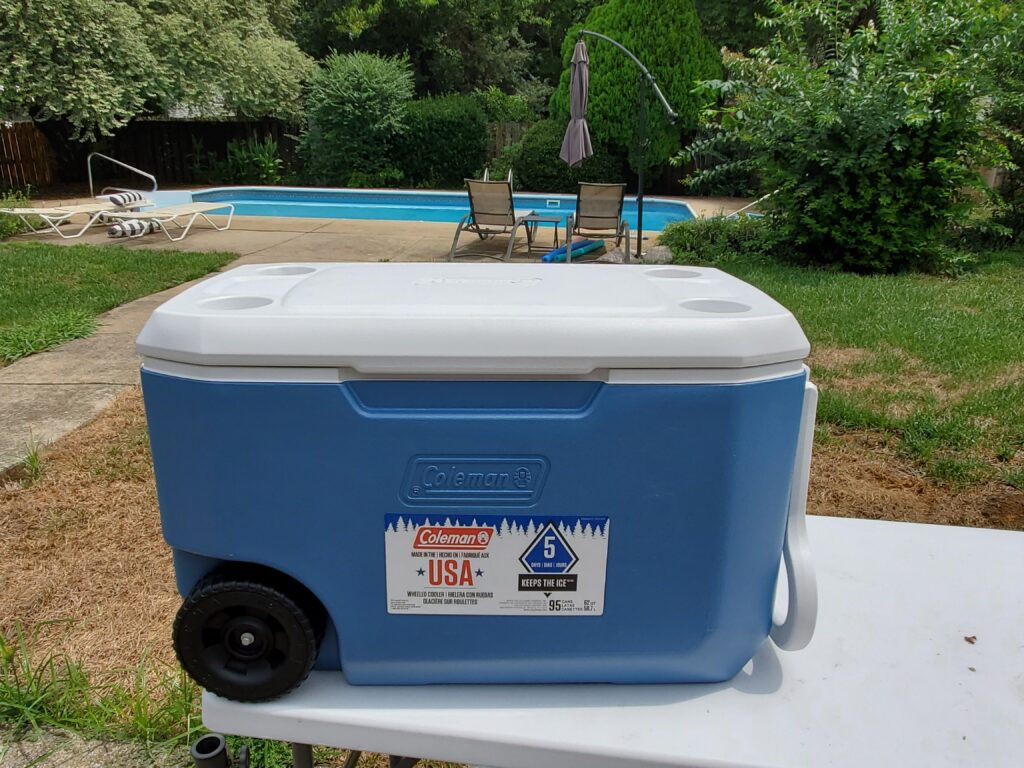 The rest after removing the pork from the smoker is just as important as the smoke itself. I wrapped each of the butts in foil and stored them in a cooler with towels. The butts sat in the cooler for 5 hours before I removed the first one and pulled it. Time depends on the need to eat, could be pulled at 1 hour if it was time to eat. Even after sitting in the cooler for 5 hours, it was still 165 degrees internal temp. The bone was removed with no effort and the rest was pulled with no effort. There was a nice bark/pork ratio.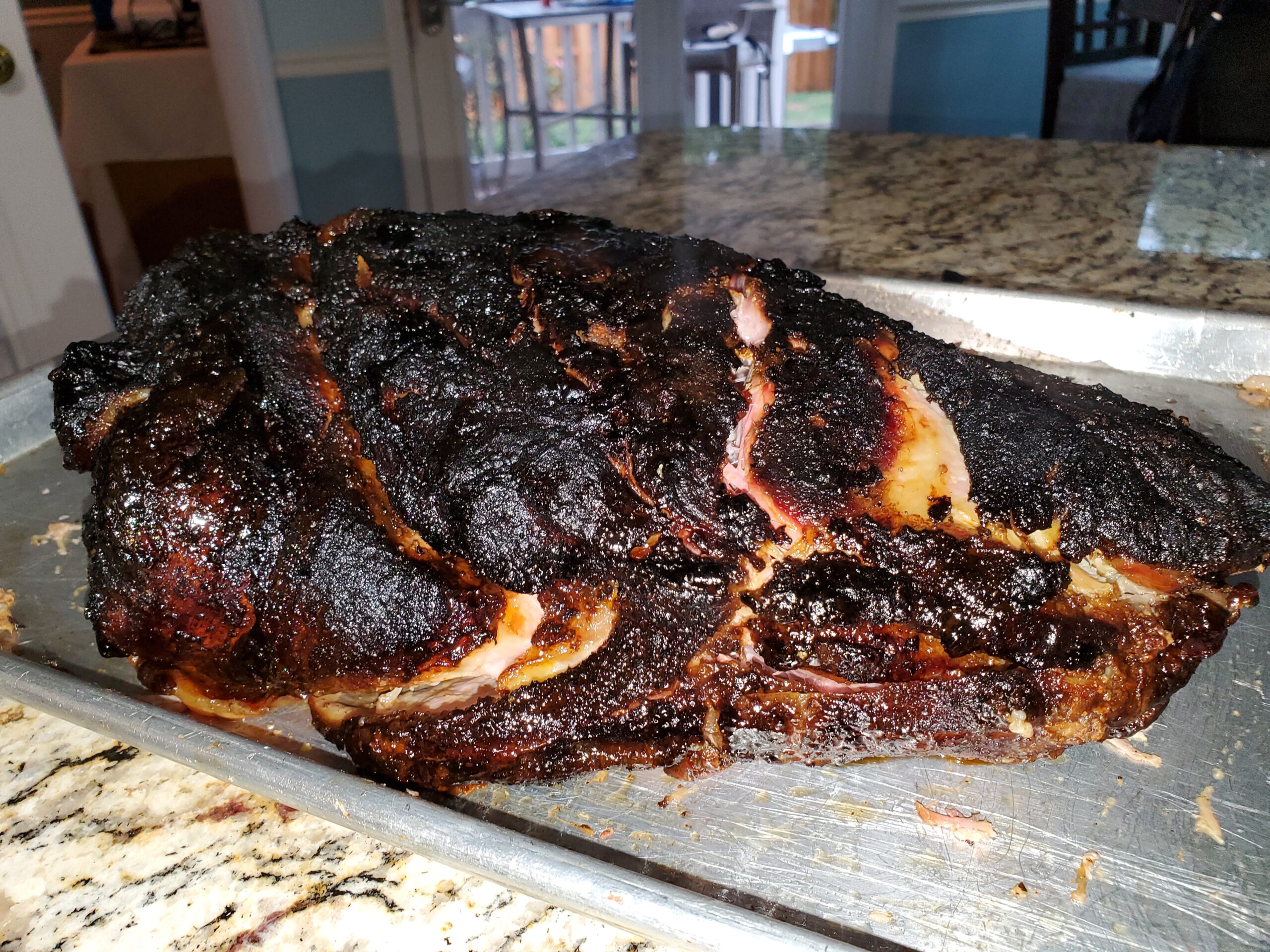 I pulled 4 additional butts and portioned into 1 lb bags and vacuum sealed them and ended up with 21 bags of pork for later consumption.