I decided to smoke a turkey this year for Thanksgiving. I purchased a 15 lb. Butterball and decided this year to not do a brine. I have read that truly the only time you "need" to brine one is if it was a organic natural turkey. Butterball type turkeys are already treated/injected prior to packaging. So for this turkey, I thawed in the refigerator for 5 days, which still was not long enough. There was still some ice in the cavity prior to prepping. For the prep, I rubbed it down with some vegetable oil and then seasoned it with garlic powder, black pepper, parika, and ground sage.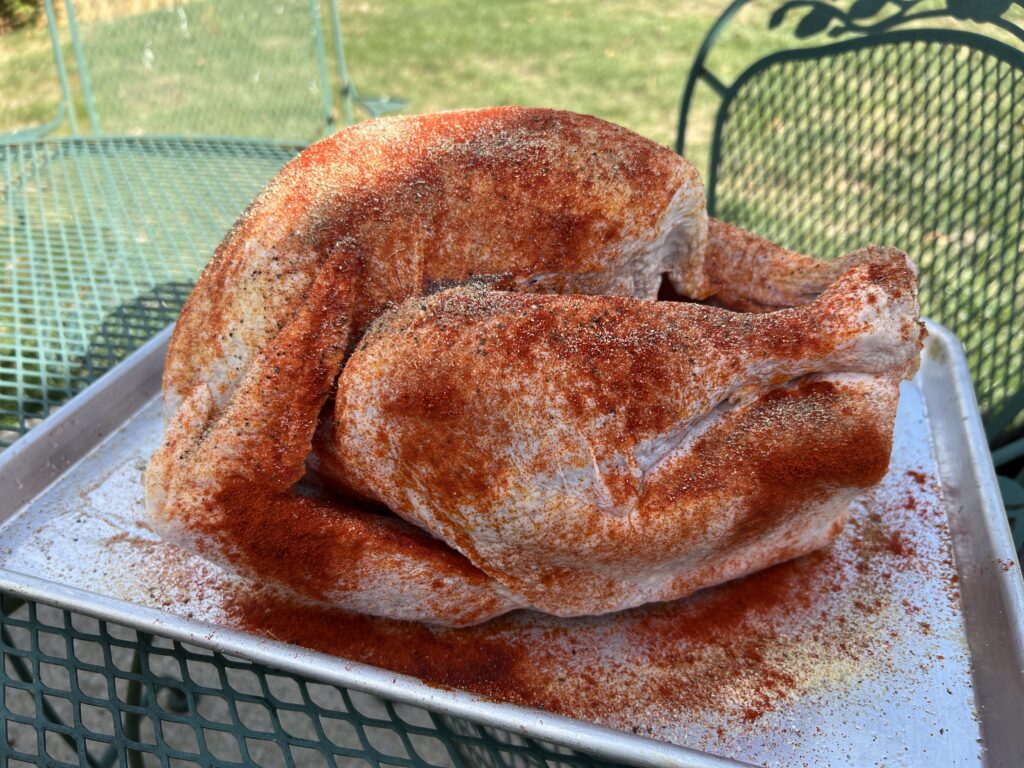 I smoked it on my 18″ Weber Smokey Mountain, using a dry water pan, lined with foil for easy clean up. I did place a catch container on the bottom rack to have something to add to the gravy. My goal for the smoke was to mimic an oven preparation. My target temp was 325 for the smoker, and I used a mix of cherry wood and apple wood for the smoke. Both of wood types will give it a mild smoked flavor, and personally I believe cherry smoke really helps with the color.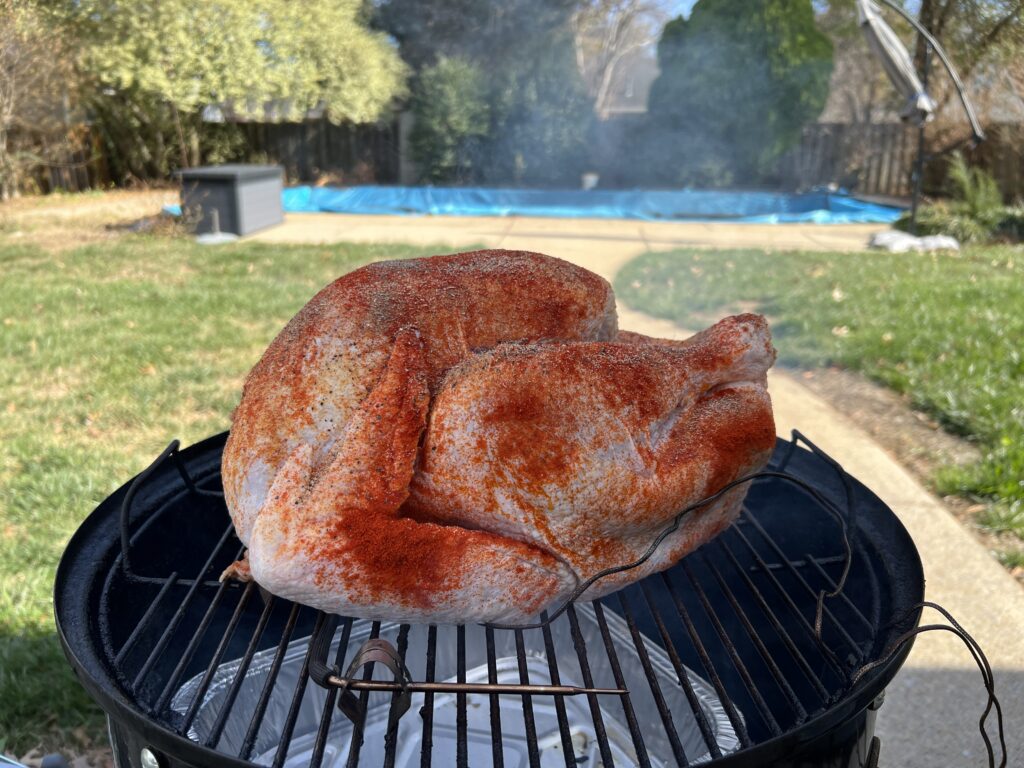 To monitor the temp, I used my inkbird device that has 4 probes, but for this effort I just used three. One for the grate temp, and the other two for the breast and thigh. Based on oven temp, I turkey was expected to take close to 4 hours to reach proper internal temp. This picture was about 2 hours into the smoking process.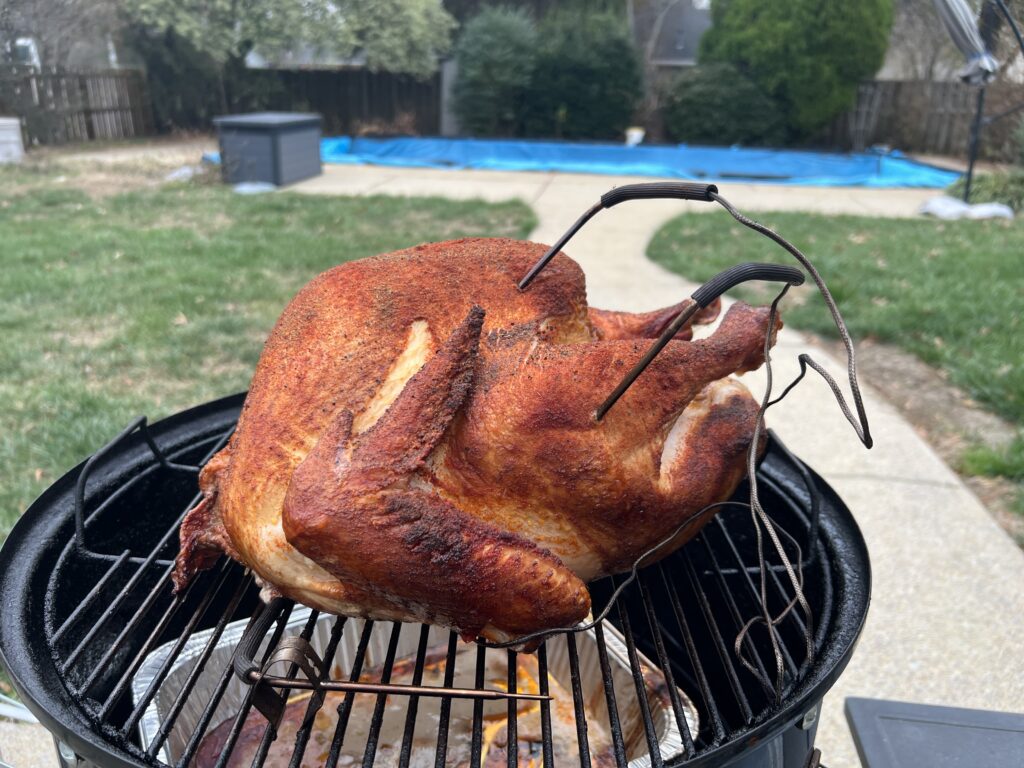 This is an easy smoke, monitored the temp from the APP on my phone. My wife made all of the side for the dinner while the turkey was smoking.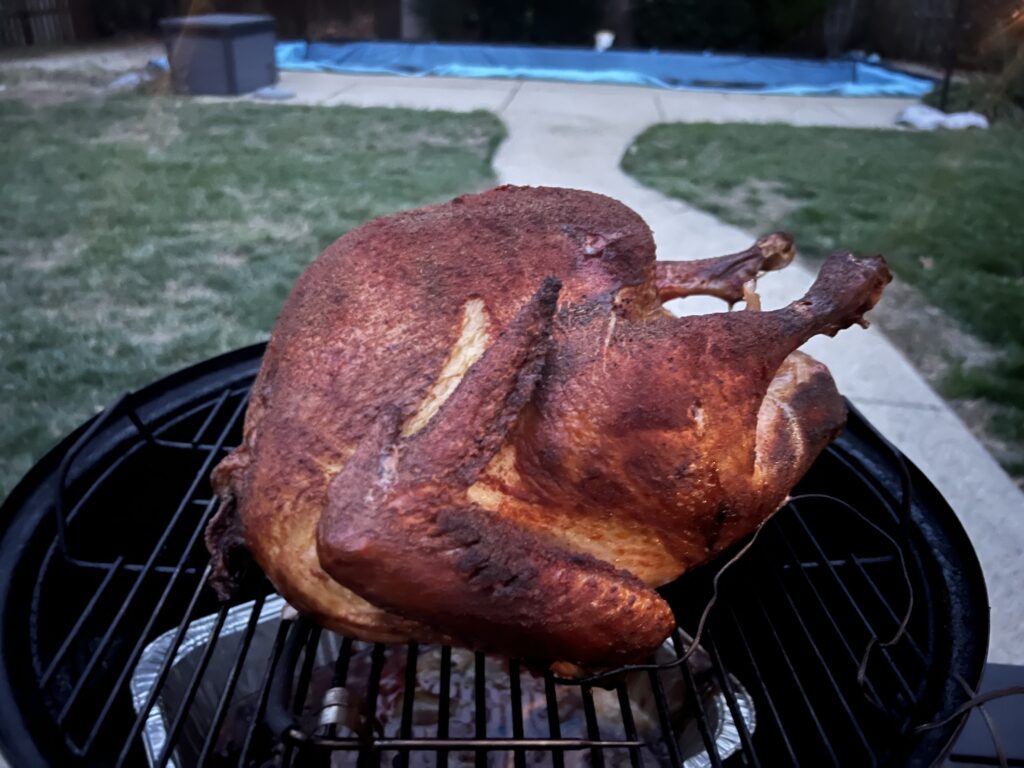 Two get it over the finish line, I removed the door from the Weber which allowed the extra air to get the coals burning hotter. It does not seem possible that the temp would rise with the door off, but it work and it arrived at desired finish temp which I went for 165 in the breast and 175 in the thigh.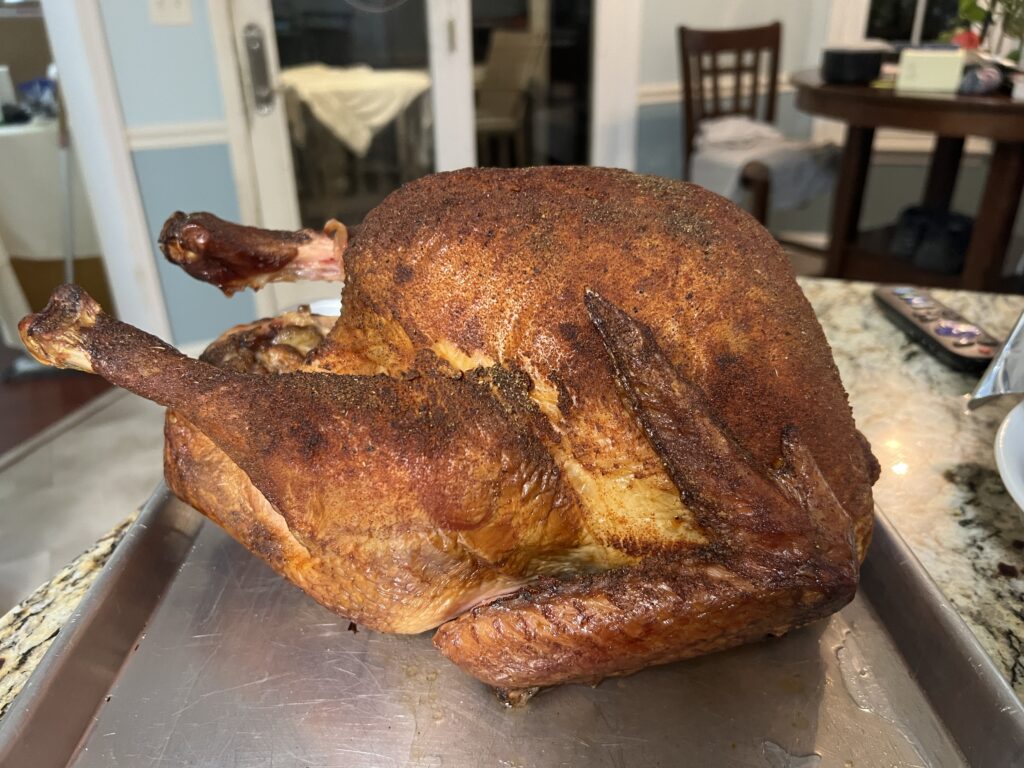 It was removed and lightly covered with foil and rested about 15 minutes prior to carving. Never been a big fan of carving the turkey, but managed to achieve the task. The turkey was very moist and tender and had an incredible smoked flavor.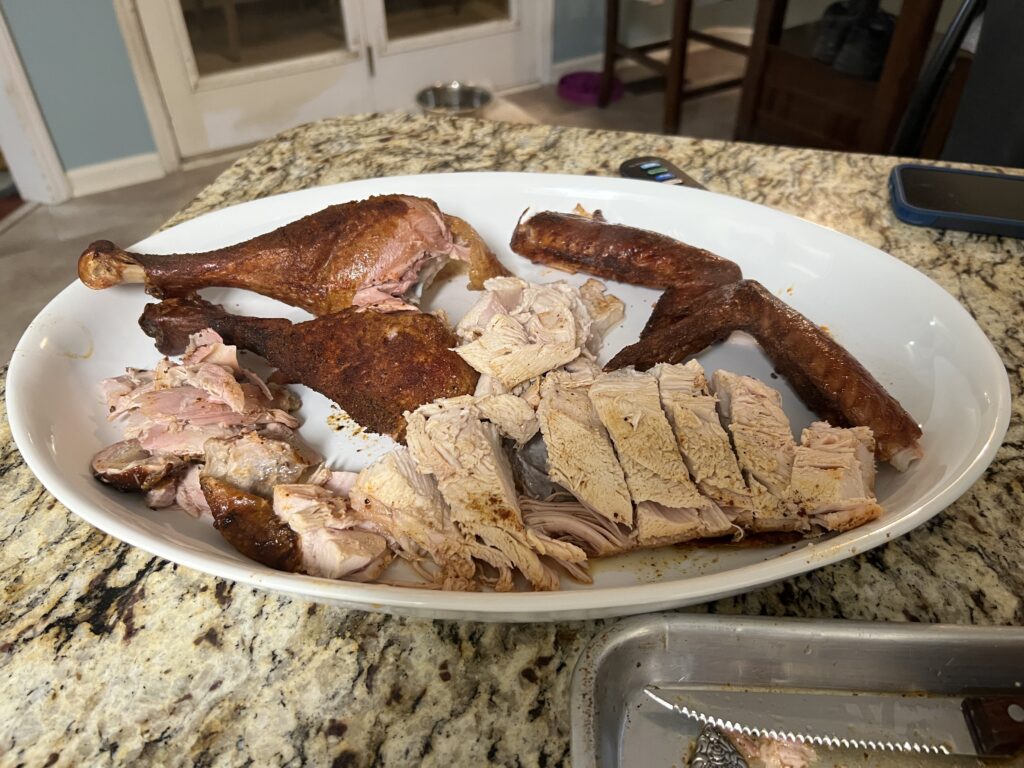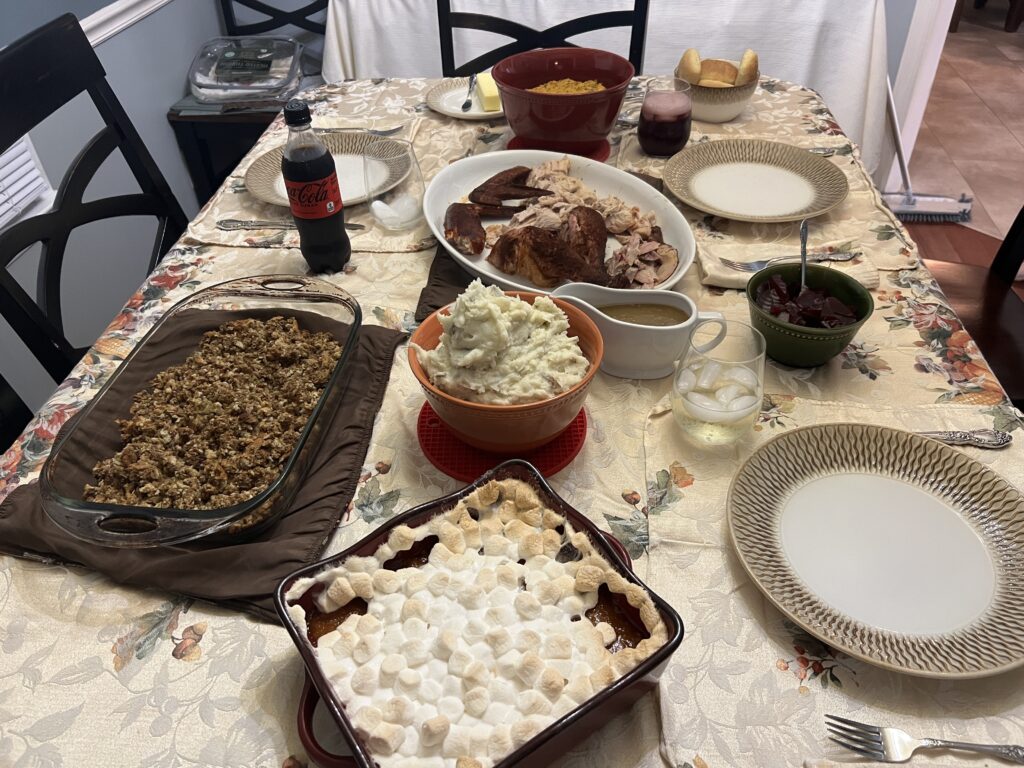 As mentioned my wife prepare all the sides for the meal. She made sweet potato casserole, brocolli and cheese casserole, mashed potatos and homemade stuffing. We also had rolls and canned (which we prefer) cranberry sauce. We did just do a jarred gravy, and I added some of the drippings that were captured from the smoker to kick it up a notch.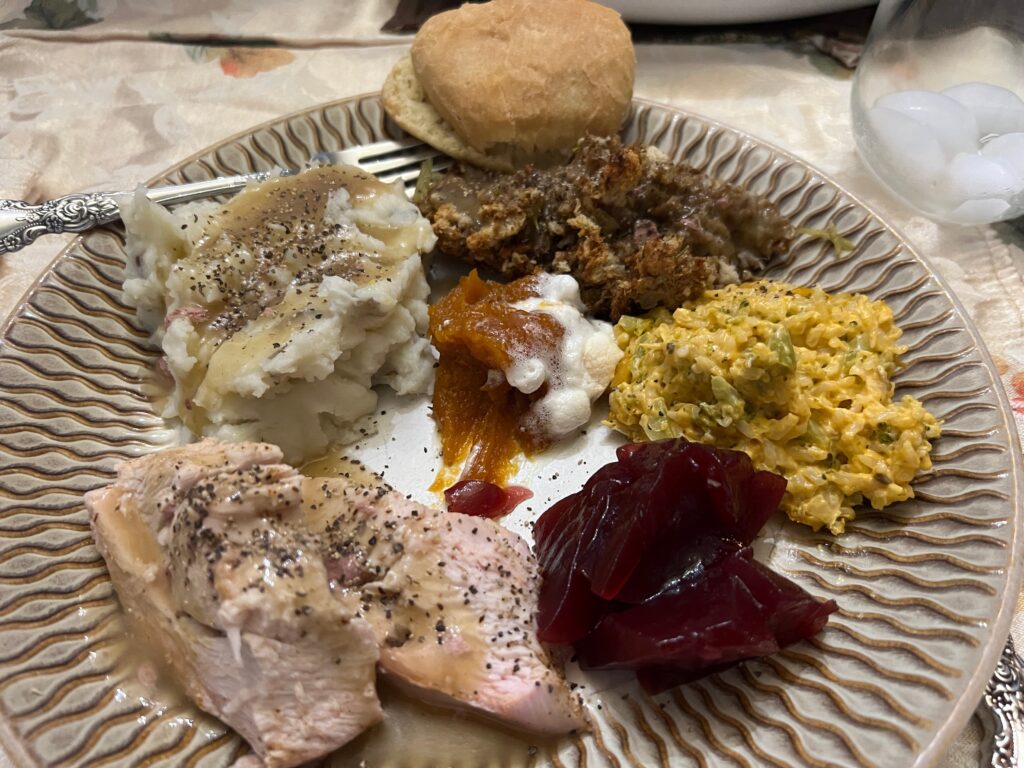 This was plate #1 for me, followed by plate #2 which equaled, I ate too much, as usual. As you can see, I am a big fan of black pepper.
Being a 15 lb. and only three of eating this feast, I can tell you we ate turkey for many meals during the week that followed.